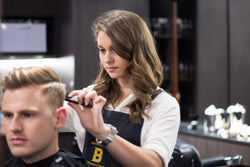 The Barberhood
Workshop C - Haircut Basics
DESIGNED FOR BEGINNERS this workshop is focused on the basic skills needed to perform a men's style cut. This course is designed for anyone who has no previous experience in hairstyling and is looking to start from the beginning. Our educator will work with you one-on-one to guide you through two haircuts using the correct techniques and equipment. Attendees will achieve the knowledge required to start cutting basic men's style cuts and clipper cuts.
What's involved

Our educators will start with and explanation of equipment and best use of tools to get desired effect of the haircut. You will then discuss the techniques for a client consultation followed by the educator's demonstration. Here the attendee can learn specific techniques to complete a basic haircut or clipper cut. Our educator will then guide you through your own haircut where you are able to ask questions and focus on areas of improvement or learning a specific technique one-on-one. 
Location & Timing
Runs for 2.5 hours every month 6:30pm – 9:00pm.
The next workshop is scheduled for the first Tuesday of next month.
Location: The Barberhood Martin Place.
Pricing
A tax receipt will be provided to you on check-out.
If you would like a tailored workshop (i.e larger group size etc.) please contact us
What to Bring
Your own model 
Scissors, thinning scissors (if you have them), clippers, guards, straight razor, comb, notebook & pen. The Barberhood will provide blades, capes and mirrors.
A straight razor is available for purchase on the evening for $39.50
Booking and Certification 
All attendees will receive a certificate on successful participation of this workshop.
All bookings are subject to availability.