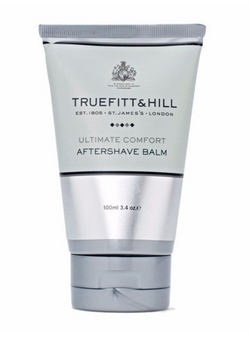 Truefitt & Hill
Ultimate comfort aftershave balm
Truefitts' Ultimate Comfort Range is specially formulated for gentlemen with sensitive skin. Enriched with Lavender essential oil - a natural antiseptic, it helps to heal and naturally moisturise.
Ideal for sensitive skin types. 
Designed to sooth the skin
Contains no added fragrance
Mild lavender scent
Containing no added fragrance, it is practical for all skin types, even the most sensitive.
Pair with Truefitts' Ultimate Comfort Pre Shave Oil for a deluxe shaving experience.


Apply a small amount of balm into hands and massage into the face and neck area after shaving.
Water, Stearic Acid, Mystric Acid, Potassium Hydroxide, Coconut Acid, Glycerin, Lavendula Angustifolia (Lavender) Oil, Triethanolamine, Sodium Hydroxide, Linalool.