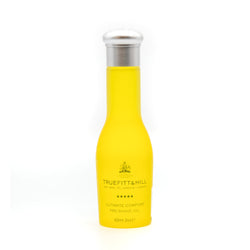 Truefitt & Hill
Ultimate Comfort Pre Shave Oil
Enriched with essential oils, the Ultimate Comfort Pre Shave Oil is designed to prepare your skin and beard for a seamless shaving experience. It aims to soften facial hair and moisturise skin prior to applying your shaving cream. 
Ideal for all skin types. 
Suitable for wet-shavers 

Conditioning formula 

Essential oil scent
A little goes a long way - the ultimate shave oil can be used sparingly, followed by your shaving cream of choice.
Take the time to thoroughly massage product into hair stubble to prepare your skin for a smoother shave experience.
Apply product to dry skin and massage. Follow with your preferred shaving cream. Shave and rinse.
Sunflower Seed Oil, Avacado Oil, Meadowfoam Seed Oil, Glyceryl Oleate, Fume Silica, Kukui Seed Oil, Laureth-4, Grapefruit Peel Oil, Tangerine Peel Oil, Aloe Barbadensis Leaf Extract, Cucumber Fruit Extract, Canola Oil, Safflower Seed Oil, Tocopherol, TBHQ.