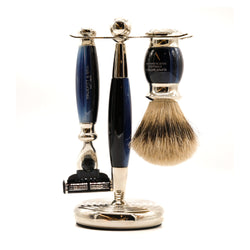 Truefitt & Hill
Navy Mach3 Super Edwardian Shaving Set
Truefitts' traditional and timeless Edwardian Set with Mach3 Razor and Pure Badger Brush. 
Suitable for use with the standard Fusion or Mach III blades respectively.
Traditional, stylish design
Compatible with Gillette mach3 and fusion blades 
Made in the UK
Cleans up bathroom sink with its' neat and stylish storage solution.
Rinse brush throughly after each use to remove all traces of soap. Shake your brush to remove all excess water from the bristles to maintain the longevity of the brush.
Prepare skin with preferred shaving products and use along side with shaving brush. To shave, use light, gentle strokes, letting your razor do the work. Rinse blade under water in-between shaving and continue to shave in the direction that feels most comfortable. Finish by applying moisturiser or aftershave.