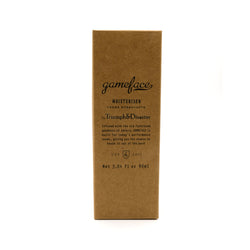 Triumph & Disaster
Gameface Moisturiser in Tube 90ml
Gameface moisturiser is a tool to serve and protect you against the elements. 
A nutrient rich, hydrating cream that will leave skin feeling toned, supple and fresh.
Suitable for all skin types. 
Lightweight formula 

Winner of the 2018 Beauty Shortlist Awards for Best Moisturiser

Alcohol, parabens, sulphates, and silicone free

Natural 'smoke and wood' scent
The non-oily formula will tighten and protect your face from free radicals.
Apply sparingly, a little goes a long way.
Apply a pea sized amount to clean face daily, or as required.

Water, Coco Caprylate (Coconut Extract), Glycerine, Jojoba Esters, Pseudowintera Colorata (Horopito), Tapioca Starch, Tocopheryl Acetate (Vitamin E), Cetyl Olivate (Olive Oil Extract), Sorbitan Olivate (Olive Oil Extract), Cetyl Alcohol, Myristyl Myristate, Sodium Hydroxide, Cyathea Cumingii (Ponga Fern) Leaf Extract, Carbomer, Fragrance, Benzyl Alcohol, Salicylic Acid, Sorbic Acid (Vitamin C), Sodium Phytate, Panthenol.