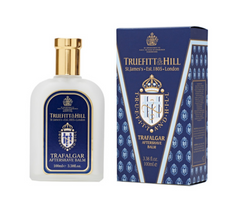 Truefitt & Hill
Trafalgar Aftershave Balm 100ml
The Trafalgar aftershave balm is formulated to be suitable for all skin types and produce a light scent that is not over powering. The aftershave has aloe vera in it to help soothe the skin. 
Specifically formulated for men with sensitive skin.
Designed to blend with any other scents used.
The scent of this fragrance is extremely fresh and not over powering. Perfect for a man looking for a great day to day aftershave balm.
Apply lightly post shave.
Apply a small amount of balm into hands and massage into the face and neck area after shaving.
Aqua (Water), Isopropyl Myristate, Stearic Acid, Propylene Glycol, Glycerine, Aloe Barbaensis (Aloe Vera Extract), Parfum (Fragrance), Triethanolamine, Lanolin, Sodium PCA, Ceteatyl Alcohol, Imidazolidinyl Urea, Carbomer, Methylparaben, Allantoin, Propyparaben, Cl 420980