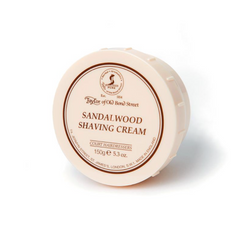 Taylor of Old Bond Street
Sandalwood Shaving Cream 150g
The acclaimed shaving cream by Taylor of Old Bond Steet, offers a smooth and luxurious lather, whether you are a beginner, or an avid wet shaver. 
Ideal for all skin types. 
Luxurious, thick lather
Vegetable based cream
Paraben free
Natural sandalwood scent 
Easy to use shaving cream, can be used with or without shaving brush.
Add to your collection of Taylor's shaving creams, to have a scent for each and every shave occasion.
Wet the skin with warm water and apply product over moistened area. Lather product with shaving brush or hands. Shave and rinse.
Aqua, Stearic Acid, Myristic Acid, Potassium Hydroxide, Coconut Acid, Glycerin, Parfum (Benzyl Benzoate, Benzyl Cinnamate, Benzyl Salicylate, Citronellol, Eugenol, Geraniol, Linalool), Triethanolamine, Sodium Hydroxide, Benzyl Alcohol, Methylchrloroisothiazolinone, Methylisothiazolinone, CI42090, Cl19140, CI17200