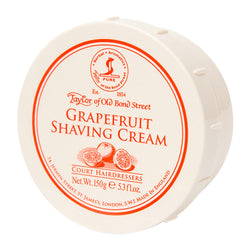 Taylor of Old Bond Street
Taylor Grapefruit Shaving Cream Tub 150g
Taylor's Grapefruit Shaving Cream creates a uniquely smooth and creamy lather whilst protecting and moisturising the skin. With the scent of freshly cut grapefruit and juicy orange, it's a citrus lover's delight. Can be used with or without a brush.
Vegetable-based shaving cream.
Suitable for all skin types.
Zesty, vibrant aroma.
Paraben-free. Vegan.
Made in the UK.
Apply a hot wet towel over your face for a few minutes to soften the your hair prior to shaving, or ideally shave straight after a shower.
To use, apply a small amount to your shaving brush. Create a lather by swirling the brush in a shaving mug or bowl before applying to skin.
Aqua, Stearic Acid, Myristic Acid, Potassium Hydroxide, Coconut Acid, Glycerin, Fragrance (Hexyl Cinnamal, Linalool, Citronellol, Limonene), Triethanolamine, Sodium Hydroxide, Benzyl Alcohol, Methylchloroisothiazolinone, Methylisothiazolinone.