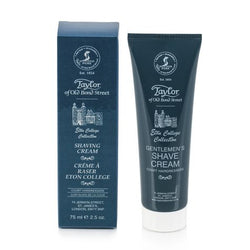 Taylor of Old Bond Street
Taylor Eton College Shaving Cream Tube 75g
Taylor of Old Bond Street's Eton College Shaving Cream is a vegetable-based shaving cream. The fragrance combines sparkling citrus oils with rich woody undertones for a distinguished and masculine scent. Can be used with or without a brush.
Vegetable-based shaving cream
Suitable for all skin types
Sparkling herb and citrus aroma on a base of warm patchouli
Paraben-free. Vegan
Made in the UK
Moisturising formula while being paraben free and vegan.
Lather product with a shaving brush for a more luxurious experience.
Scoop out an almond sized amount and use a shaving brush to work up a lather. Apply to beard and wait 2 minutes to allow hair to soften. Cream may also be applied directly to the face and worked into a lather using your fingers. Shave and rinse.


Aqua, Stearic Acid, Myristic Acid, Potassium Hydroxide, Coconut Acid, Glycerin, Triethanolamine, Parfum, Sodium Hydroxide, Limonene, Linalool.