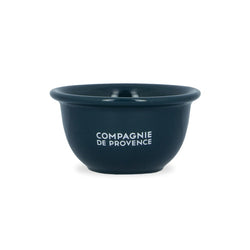 Compagnie de Provence
Shaving bowl
Complete your shaving ritual with the Compagnie de Provence shaving bowl, which was specially designed for use with the grooming for men traditional shaving soap. The ceramic bowl retains heat better than metal bowls, so you can enjoy a warm lather while you shave.
The shaving bowl is the essential accessory for all those who love to shave the old-fashioned way.
Empty the excess of water and clean thoroughly after each use. The Grooming for Men traditional Shaving Soap perfectly fits the size of the bowl.
With some warm water in the the shaving bowl, swirl your brush over the surface of the Grooming for Men traditional shaving soap until you've got a good lather, apply, shave and then rinse.