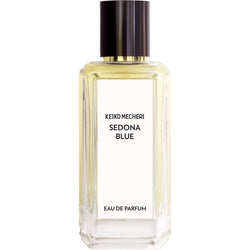 Keiko Mecheri
Sedona Blue 100ml
Citrus and aromatic - delicate citrus notes enhanced by contrast of a fresh opening of aromatic note and a darkly splendid woodsy base.
Citrus: Zesty, tangy and refreshing aromas, like lemons, bergamot and grapefruit.


SCENT COMPOSITION:
CITRUS NOTES • AROMATIC NOTES • MARINE NOTES
WOODSY NOTES • AMBER.
Aromatic: Clean, fresh and herbaceous aromatic notes of lavender and citrus.
Apply fragrance to heat areas (chest, neck, inner elbow). Your body heat will push the scent throughout the day.
Citrus Notes, Aromatic Notes, Marine Notes, Woody Notes & Amber.