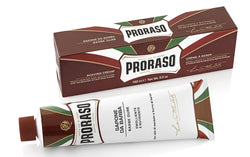 Proraso
Sandalwood Shaving Cream Tube
The traditional vegetable stearin based formula is enriched with natural ingredients which makes it particularly rich and concentrated. Shea butter keeps the skin soft and nourished, Sandal oil has a calming anti-inflammatory effect.
Made in Italy 

Paraben-free & silicon-free

Sandalwood Scent 
The thickness in lather is ideal for shaving and doesn't begin to thin when applied.
Lather product with shaving brush to maximise lather properties.
Prepare your face with warm water, or apply after shower. Just dab a little cream from the tube onto a wet brush and lather across face and neck.