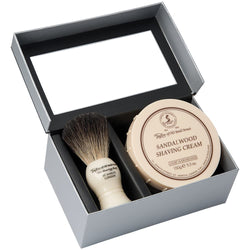 Taylor of Old Bond Street
Sandalwood Shaving Cream & Brush Set
The Taylor of Old Bond Street Sandalwood Shaving Cream & Brush Set features their bestselling shaving cream and a pure badger shaving brush. The classic sandalwood-scented cream will produce a thick, protective lather for a smooth, comfortable shave.
Gift box includes shaving brush and shaving cream
Popular Sandalwood Shaving Cream
Pure badger shaving brush bristles
Suitable for most skin types
Makes a great gift for men who need all the essentials for wet shaving
Made in UK
The Sandalwood shaving cream is their most popular cream, and together with the included pure badger brush, will produce a thick, protective lather with ease.
Apply a hot wet towel over your face for a few minutes to soften the your hair prior to shaving, or ideally shave straight after a shower.
Scoop out an almond sized amount and use a shaving brush to work up a lather.
Aqua, Stearic Acid, Myristic Acid, Potassium Hydroxide, Coconut Acid, Glycerin, Benzaldehyde, Triethanolamine, Sodium Hydroxide, Benzyl Alcohol, Methylchloroisothiazolinone, Methylisothiazolinone.