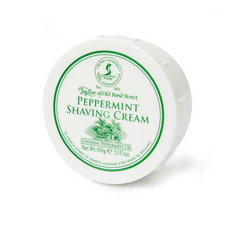 Taylor of Old Bond Street
Peppermint Shaving Cream 150g
This peppermint shaving cream offers a refreshing and exhilarating shaving experience by creating a rich and luxurious lather.
Vegetable base 
Made in the UK
Paraben-free. Vegan.
High quality ingredients leads to an excellent lather leaving the skin feeling nourished and refreshed.
Add to your collection of Taylor's shaving creams, to have a scent for each and every shave occasion.
Wet the skin with warm water and apply product over moistened area. Lather product with shaving brush or hands. Shave and rinse.
Aqua, Stearic Acid, Myristic Acid, Potassium Hydroxide, Coconut Acid, Glycerin, Parfum*, Triethanolamine, Sodium Hydroxide, Mentha Piperita (Peppermint) Oil, Benzyl Alcohol, Methylchloroisothiazolinone, Methylisothiazolinone. (*Contains Limonene)