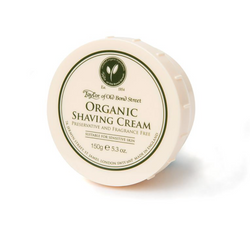 Taylor of Old Bond Street
Organic Shaving Cream 150g
This certified organic shaving cream is our purest shaving product, made from 95% natural raw materials.
Luxurious, thick lather
Made in the UK
Vegan
Easy to use shaving cream, can be used with or without shaving brush.
Add to your collection of Taylor's shaving creams, to have a scent for each and every shave occasion.
Wet the skin with warm water and apply product over moistened area. Lather product with shaving brush or hands. Shave and rinse.
Aqua, Stearic Acid, Myristic Acid, Potassium Hydroxide, Coconut Acid, Glycerin (Organic), Allantoin, Triethanolamine, Sodium Hydroxide, Simmondsia Chinensis (Jojoba) Oil, Aloe Barbadensis Leaf Juice, Vitamin E.