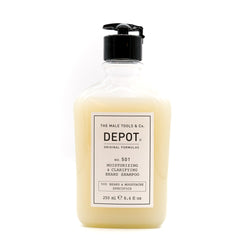 Depot
No. 501 Moisturizing & Clarifying Beard Shampoo 250mL
Formulated especially for facial hair, Depot's 501 beard shampoo is optimal for purifying the beard whilst maintaining natural moisture levels. 
Suitable for all hair / skin types. 
Recommended for daily use
Balancing and refreshing 

Fresh aloe / mint scent 



Especially great for longer beards as it thoroughly cleans the beard and surrounding skin, removing any dirt and product build-up.
To add softness and control, continue with No. 502 Beard & Moustache Butter.
Apply to wet beard, massage and rinse thoroughly.
Actives:
Delicate surfactant, Essential mint oil, Aloe vera extract, Pro-Vitamin B5