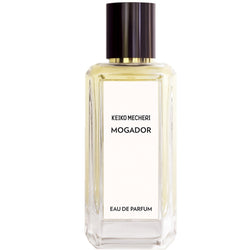 Keiko Mecheri
Mogador 100ml
Rich and floral, all the most coveted roses gathered in this iridescent modern perfume. Velvety, rich petals of Moroccan rose give the tempo. Jasmine notes reaffirm its suave femininity. This perfume brings one closer than ever to the roses chanted in the poetry of Rumi.

SCENT COMPOSITION:
BULGARIAN ROSE • MAY ROSE • DADES ROSE • JASMINE.
Floral: The exquisite notes of freshly cut flowers and heady bouquets.
Apply fragrance to heat areas (chest, neck, inner elbow). Your body heat will push the scent throughout the day.
Bulgarian Rose, May Rose, Dades Rose & Jasmine