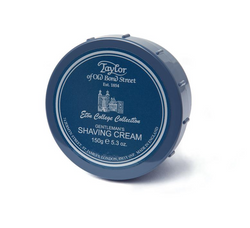 Taylor of Old Bond Street
Eton College Shaving Cream 150g
A citrus based shaving cream, which dates back to when Taylor of Old Bond Street were selected to open a barber shop for the Eton Public School. 
Vegetable base 
Also available in a smaller 75g tube which is great for travel.
Paraben-free. Vegan.
High quality ingredients leads to an excellent lather leaving the skin feeling nourished and refreshed.
Add to your collection of Taylor's shaving creams, to have a scent for each and every shave occasion.
Wet the skin with warm water and apply product over moistened area. Lather product with shaving brush or hands. Shave and rinse.
Aqua, Stearic Acid, Myristic Acid, Potassium Hydroxide, Coconut Acid, Glycerin, Triethanolamine, Parfum, Sodium Hydroxide, Limonene, Linalool.