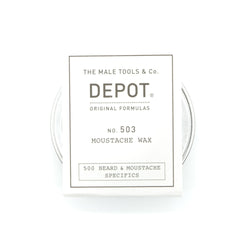 Depot
No. 503 Moustache Wax 30ml
Depot's 503 Moustache Wax is formulated to mould with flexibility and ease, allowing free rein with your personal grooming creativity and style. 
Ideal for all skin and hair types. 
Provides shine and control 
Packed with natural active moisturisers 
Light essential oil blend scent 
Great for moulding heavier, traditional moustache styles. Follow with a moustache comb for extra finesse.
Use in conjunction with depot's 501 beard clarifying shampoo for a deluxe beard finish.
Work a small amount of product with fingertips. Apply, comb and style.
Actives:
Jojoba oil, beeswax