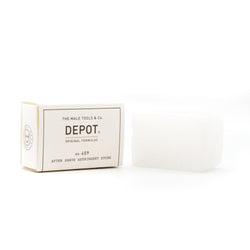 Depot
No. 409 Aftershave Astringent Stone 90g
Depot's 409 Astringent Stone is a natural hypoallergenic, made from a mixture of aluminium and potassium salt of sulfric acid. With its' astringent properties, it is the perfect post-shave aid tool to have in your shaving kit. 
Ideal for all skin types. 
Easy to use
Naturally derived 
Colourless and odourless
Being colourless and odourless, it is practical for all skin types, even the most sensitive.
To prolong the life of the stone, pat dry after each use.
Wet the skin with cold water and gently rub the alum stone onto the shaved area. Leave on for a few seconds and splash face with warm water.
Actives:
Potassium alum