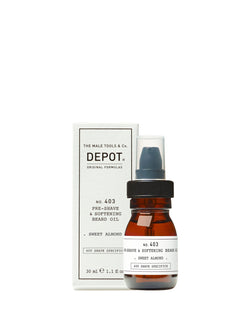 Depot
Depot No 403 Pre Shave and Softening Beard Oil 30ml
A versatile product composed of a mix of high-quality plant oils. It can be used as a pre-shave to soften the skin and beard and also as nourishing beard oil. It softens and gives shine without greasing. In addition, it neutralizes odours of sweat and food. It quickly absorbs and favours the lengthening of the beard, thanks to its emollient and Restructuring Actions.
Sweet Almond

Fresh Black Pepper

A dual focused product - can be used to assist with shaving and softening the beard.
To soften the beard; apply a few drops on your hands,massage into beard and mustache in all directions to nourish and add control and Shine.
Apply a few drops on the face before shaving to moisturize,soften the hair and prevent irritation
Apricot oil: emollient, nourishing and conditioning
Jojoba oil: emollient, nourishing and conditioning
Sweet almond oil: emollient, nourishing and conditioning
Vitamin E: an antioxidant and anti-radical