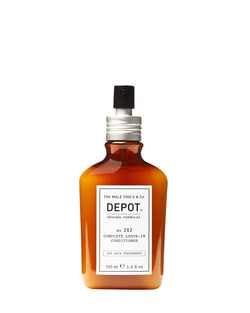 Depot
Depot No 202 Complete Leave In Conditioner 100ml
A unique leave-in product that hydrates and conditions. It protects and adds natural control to the hair. Also recommended for the beard.
This conditioner protects the hair from chemical and environmental damage and also adds nutrition back into the hair and scalp with its thick, velvety formula.
Do not rinse out and proceed with the hairstyling.
Dispense a moderate amount on hands depending on the length and thickness of the hair.
Apply directly on clean,towel-dried hair,massaging out the excess water.

Botanical Complex: blend of 10 plant extracts with multiple beneficial effects on skin and hair
Conditioning agents: leaving the hair light,disciplined,manageable and silky
Silicone emollients: add brightness and manageability to hair
UV filter: protects the hair from the lightening and dehydrating effect of the sun