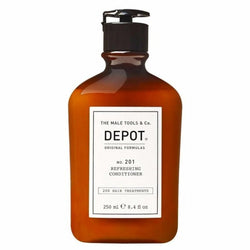 Depot
Depot No 201 Refreshing Conditioner 250ml
Toning and moisturizing scalp and hair conditioner.
It has a moisturizing, toning and refreshing effect on hair and scalp. Gives hair softness and firmness preventing the hair to become static and frizzy.
Revitalising peppermint scent. 
This conditioner protects the hair from chemical and environmental damage and also adds nutrition back into the hair and scalp with its thick, velvety formula.
Apply to towel-dried hair. Massage into scalp and hair.Leave a few moments and then rinse thoroughly.

Rice oil: softening and nourishing
Eucalyptol: toning,refreshing and perfuming
Pro-Vitamin B5: regenerating,soothing and conditioning of skin and hair
Botanical Complex: blend of 13 plant extracts with multiple beneficial effects on skin and hair
Rosemary essential oil: perfuming,skin conditioning
Lemon essential oil: antioxidant,conditioning and perfuming