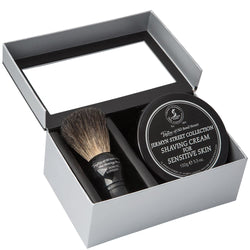 Taylor of Old Bond Street
Jermyn Street Shaving Cream & Brush Set
The Taylor of Old Bond Street Jermyn St Shaving Cream & Brush Set is an ideal gift for men with sensitive skin. The pure badger shaving brush and specially-formulated shaving cream will provide a thick, protective lather that minimises irritation.
Gift box includes shaving brush & cream
Popular Jermyn St Shaving Cream
Pure badger shaving brush bristles
Ideally suited for sensitive skin
Makes a great gift for men
Made in UK
The Jermyn St cream is specially-formulated for use on sensitive skin, and together with the included pure badger brush, will produce a thick, protective lather with ease.
Apply a hot wet towel over your face for a few minutes to soften the your hair prior to shaving, or ideally shave straight after a shower.
Scoop out an almond sized amount and use a shaving brush to work up a lather.
Aqua, Stearic Acid, Myristic Acid, Potassium Hydroxide, Coconut Acid, Glycerin, Benzaldehyde, Triethanolamine, Sodium Hydroxide, Benzyl Alcohol, Methylchloroisothiazolinone, Methylisothiazolinone.