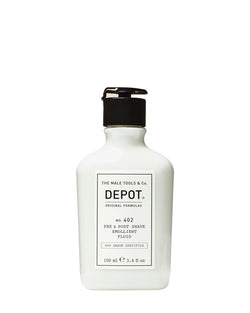 Depot
Depot No 402 Pre and Post Shave Emollient Fluid 100ml
Prepares, preserves and protects the skin before shaving. Also recommended as a specific post shave cream thanks to its emollient, soothing and refreshing effect. Easily absorbed. Ideal for all skin types even the most sensitive. 
The 402 is great for those who travel as it serves as a shave cream and post-shave moisturiser all in one.
Use on skin / face in cooler months to lock in maximise moisture and hydration.
As pre shaving - apply to the skin to shave and massage,then continue with the preferred shaving product.
As post shaving - apply to the skin and massage.
Olive oil: softening,nourishing and skin conditioning
Sweet almond oil: softening,nourishing and skin conditioning
Eucalyptus essential oil: perfuming and skin conditioning
Mint essential oil: toning,refreshing and perfuming
Glycerin: a humectant,supports the moisture level of the skin,keeping it soft and supple
Camphor: refreshing and stimulat