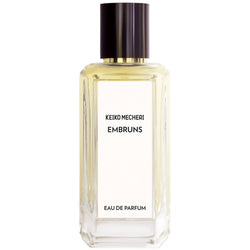 Keiko Mecheri
Embruns 100ml
A masculine composition inspired by Keiko Mecheri's passion for her native Japan. 
It is a Chypre that develops gradually with a prelude of fresh citrus notes into a bouquet of toasted spices and marine  notes, before drying down to Indonesian patchouli leaves, incense and driftwood.
SCENT COMPOSITION:
BERGAMOT • MARINE NOTES • SPICE NOTES
INCENSE  • INDONESIAN PATCHOULI • MOSS
HINOKI NEEDLES • WHITE SANDALWOOD
Mossy Woods: Sweet, smooth and earthy notes of the forest


Apply fragrance to heat areas (chest, neck, inner elbow). Your body heat will push the scent throughout the day.