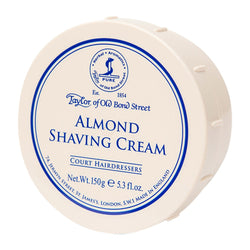 Taylor of Old Bond Street
Taylor Almond Shaving Cream 150g
Taylor's Almond Shaving Cream is a classic, masculine scent with a nutty essence of natural almond oil. Can be used with or without a brush.
Vegetable-based shaving cream
Suitable for all skin types
Almond aroma, reminiscent of marzipan
Paraben-free. Vegan
Made in the UK
Nostalgic fragrance of marzipan.
Apply a hot wet towel over your face for a few minutes to soften the your hair prior to shaving, or ideally shave straight after a shower.
To use, apply a small amount to your shaving brush. Create a lather by swirling the brush in a shaving mug or bowl before applying to skin.
Aqua, Stearic Acid, Myristic Acid, Potassium Hydroxide, Coconut Acid, Glycerin, Benzaldehyde, Triethanolamine, Sodium Hydroxide, Benzyl Alcohol, Methylchloroisothiazolinone, Methylisothiazolinone.