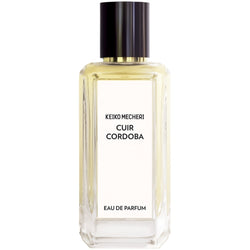 Keiko Mecheri
Cuir Cordoba 100ml
A sensation 'just under the skin'. A suede-like olfactory texture delicately perfumed with powdery floral notes. An androgynous composition.

SCENT COMPOSITION:
VIOLET • BERGAMOT • SUEDE ACCORD
ELEMI PATCHOULI • SANDALWOOD • BENZOIN.
Dry Woods: Smouldering and smoky wood notes mixed with leather aromas.
Apply fragrance to heat areas (chest, neck, inner elbow). Your body heat will push the scent throughout the day.
Black Voilet, Bergamot, Suede Accord. Elemi Patchouli, Sandalwood & Benzoin.