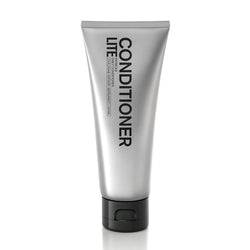 CD Conditioner Lite 200ml
Conditioner Lite is specifically formulated to restore moisture, as well as repair and improve protein integrity in product-stressed hair
Contains Patricks Recovery Compound which combines both plant-based and scientifically engineered ingredients of the highest quality and proven efficacy. The combined and synergistic action of these ingredients directly address hair loss, hair growth, scalp and hair health
Notes: Vetiver, Bergamot
Cruelty, Sulfate, Paraben and Phthalate Free
This conditioner protects the hair from chemical and environmental damage and also adds nutrition back into the hair and scalp with its thick, velvety formula.
Perfect size for travelling.
Best Suited to: Thin to Normal Hair. Those concerned with or beginning to experience hair loss. Use in conjunction with SH Shampoo Lite.
Apply part of product to hair and scalp and massage through from roots to ends. Rinse well.
Capixl Biochanin A, Unisooth PN-47 Panthenyl Triacetate, Capixl Acetyl Tetrapeptide-3, Serenoa Serrulta Saw Palmetto, Rosmarinus Officianalis Rosemary, Coffea Arabica Caffeine, Salvia Sclarea Sage, Kigelia Africana Kigelia, Capsicum Frutescens Chill, Ginkgoacea Ginko Bilboa, Cinnamomum Verum Cinnamon, Epigallocatechin Gallate Green Tea