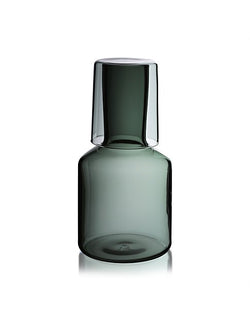 Maison Balzac
Carafe & Glass Smoke
A household staple, or perfect dinner party gift, Maison Balzac's carafe and gobelet are inspired by the traditional sets used in France and displayed on a bed side table at night. 
Individually mouth blown; each piece is heat and cold resistant and add extraordinary pleasure to the simple act of drinking water. 
It is highly recommended to hand wash your carafe and gobelet. 
Clear carafe is approx. 20cm high and 9.5cm wide. 
Clear gobelet is approx. 8cm high and 7cm wide
Maison Balzac seven-point star logo sandblasted underneath each carafe. 
Sophisticated, timeless. A must have for either your home, office or both!