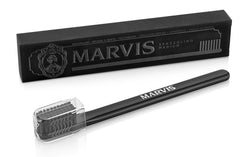 Marvis
Black Toothbrush
The black Marvis toothbrush has a medium firm bristles. The brush also has a sturdy black handle and promotes a 3 month long brushing life span. 
Medium
Made in Italy 
Comes with a brush cap
This toothbrush is designed to be extremely light so it is perfect for traveling
Brush thoroughly around the gums to ensure all plaque is picked up.