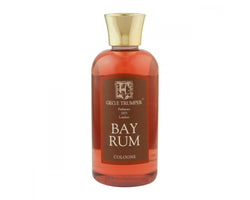 Geo F. Trumper
Bay Rum Cologne Splash 100ml
Blazing with the spicy flickers of crushed bay leaves and clove, this fragrance is wonderfully invigorating.
Vibrant, crisp and exhilarating, this is a striking cologne.
Base Note – Clove
Made in the UK
This product is a great size for travelling
The GFT bay rum can be used as cologne or aftershave splash.
Place the bay rum into the palm of the hands. This is to then be applied to the skin where necessary.
Ethanol B, Fragrance, Eugenol, Limonene, Linalool, Citral.