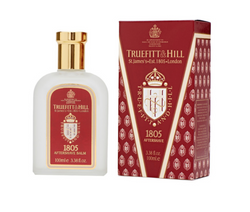 Truefitt & Hill
1805 Aftershave Balm 100ml
The 1805 aftershave balm is designed for daily use with a long lasting scent. It soothes and calms the skin post shave.
Suitable for all skin types.
Designed for men with sensitive skin
Contains lanolin and aloe vera extract
This Aftershave balm packs a punch for an extended amount of time making it ideal for someone that needs to maintain a fresh smell all day.
This balm is recommended for men that find they have skin that is very sensitive to other products.
Apply a small amount of balm into hands and massage into the face and neck area after shaving.
Aqua (water), Isopropyl Myristate, Stearic Acid, Propylene Glycol, Glycerine, Aloe Barbadensis, (Aloe Vera Extract), Parfum (Fragrance), Triethanolamine, Lanolin, Sodium PCA. Ceteatyl Alcohol, Imidazolidinyf Urea, Carbomer, Methylparaben, Allantoin, Propyparaben