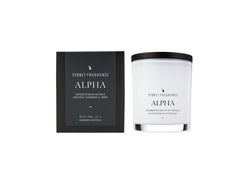 Alpha
Sydney Fragrance Alpha Candle
Bringing together earthy base notes of cedarwood and amber, razored fresh with a dash of grapefruit, Alpha brings forth classic Australian masculinity: confident, assured and never taking itself too seriously. Burn for grounded intensity.
TOP: Ozone, Petitgrain, Tangerine
BOUQUET: Basil, Geranium, Dianthus
FOND: Vetiver, Patchouli, White Wood
DOUBLE WICK ~ SOY BLEND CANDLE
NET WT e360g ~ Up to 80 hours burn time. 
80 Hour burn 
A great gift idea