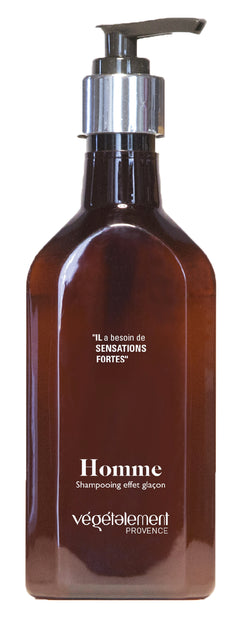 Vegetelement Provence
Sensations Fortes Purifying Shampoo 200ml
A professional haircare shampoo, inspired by the cryotherapy of essential oils, it gives an intense ice-cold effect for an immediate sensation of wellbeing. A unique herbal double action that invigorates and makes hair shine. A veritable stimulation cocktail, it acts on blood microcirculation and soothes the scalp. 
PET bottle 
For dull and damaged hair
Vegan
This product provides the hair with a great clean without drying out your scalp.
Ensure the shampoo is massaged through the hair thoroughly to enhance the purifying qualities when washed out.
Apply evenly on wet hair and massage the scalp. For an intense feeling of freshness, leave for 2 mi-nutes. Repeat if necessary. Rinse with clear water.
Aqua (Water), Zinc Coceth Sulfate, Cocamidopropyl Betaine, Sodium Capryloyl Glutamate, Lactic Acid, Betula Alba Leaf Extract, Urtica Dioica Leaf Extract (Urtica Dioica (Nettle) Leaf Extract), Citrus Limon Peel Extract (Citrus Limon (Lemon) Peel Extract), Menthol, Sodium Olivamphoacetate, Glycerin, Decyl Glucoside, Polyquaternium-10, Coco-Glucoside, Glyceryl Oleate, Citrus Limon Peel Oil (Citrus Limon (Lemon) Peel Oil), Limonene, Amyris Balsamifera Bark Oil, Eucalyptus Globulus Leaf Oil, Rosmarinus Officinalis Leaf Oil (Rosmarinus Officinalis (Rosemary) Leaf Oil), Lavandula Angustifolia Angustifolia Herb Oil, Melaleuca Alternifolia Leaf Oil (Melaleuca Alternifolia (Tea Tree) Leaf Oil), Linalool, Lecithin, Tocopherol, Ascorbyl Palmitate, Citric Acid.