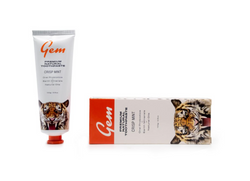 Gem
Premium natural toothpaste
Gem is a non-toxic, chemical free toothpaste, made in Australia, with earth minerals, natural oils and oral probiotics. This toothpaste has probiotics and natural oils. And of course, Gem does all the stuff you'd expect a toothpaste to do, like freshen, brighten and protect your teeth. 
Free from 

parabens, triclosan, SLS and BS

Fresh mint flavour 
It is great for your teeth and Is the first toothpaste with probiotics in them.
Use daily. This toothpaste has no nasties to the extent where you can use it as a breath freshener.
Use daily to clean your teeth

Water, Calcium Carbonate, Xylitol, Glycerin, Sorbitol, Hydroxyapatite, Silica, Hydrated Silica, Cellulose Gum, Sodium Methyl Cocoyl Taurate, Menthol, Mentha Arvensis Leaf Oil, Mentha Piperita Oil, Calcium Glycerophosphate, Stevia Rebaudiana Leaf/Stem Extract, Lactobacillus Salivarius, Phenoxyethanol, Maltodextrin.