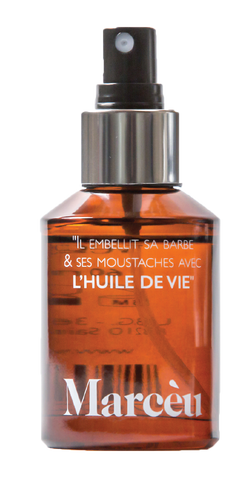 Vegetelement Provence
L'Huile de vie Oil of life beard tonic 60ml
 For the care of beards, moustaches, hair & all skin types, the Oil of Life for Beards & Mous-taches holds the herbal secrets to tone, soften, hydrate and crucially regenerate. It also includes an anti-ageing agent common to many active herbal protecting soothers, 
For all skin types
Vegan
Comes in a glass bottle
We love the subtle anti ageing properties within this beard and moustache tonic.
Add this product as required during the day so that you do not overload the beard. We recommend applying more at night if you are to sleep with the product.
Apply a few drops of the Oil of LIfe once or twice daily, gently massaging the beard and/or moustache, until it reaches the skin.
Vitis Vinifera Seed Oil (Vitis Vinifera (Grape) Seed Oil), Simmondsia Chinensis Seed Oil (Simmondsia Chinensis (Jojoba) Seed Oil), Mentha Piperita Oil (Mentha Piperita (Peppermint) Oil), Lavandula Angustifolia Oil (Lavandula Angustifolia (Lavender) Oil), Tocopherol, Linalool, Rosmarinus Officinalis Leaf Oil (Rosmarinus Officinalis (Rosemary) Leaf Oil), Limonene, Lecithin, Ascorbyl Palmitate.